---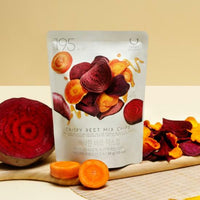 딜라이트 프로젝트 바삭한 비트 믹스칩 40g
Delight project Crispy Beet Mix Chips 40g
Why we love it
It can be paired with beer or wine as snacks instead of flour-based snacks.
These chips are seasoned with a uniquely flavors seasonings too entertain your pallete in a healthy way.
Featured ingredients
Beet, purple sweet potato, and carrots add nutritions to your snacking habits.
Added maple seasoning makes it wonderfully sweet and savory.