---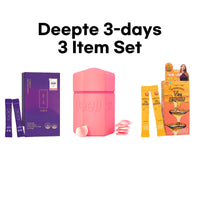 Deepte 3-Day [3 Item Set] Peach Burn 30 Tablets + Pumkin 10 Sticks + Strong Up 15 Sticks 딥트3일 [인기템 3종 세트] 피치번 30정 (30일분) + V라인 호박 하나 10포 + 스트롱업 15포
Deepte 3-Day
Product Info
Why we love it
This is an 11-in-1 functional product that can both diet and manage antioxidants together.
Deep Te has been recognized by the MFDS as a Health Functional Food for its dieting function, and is not categorized as processed food.
Recommended to those who eat oily meals often, have a habit of eating late at night, are worried about eating too much, wants to focus on reducing body fat, those who need a regular and healthy habit to use the toliet, and those who are worried of their gut health.
The ingredients has been recognized by the MFDS for its functional ability and are strictly managed under trusted processes.

Featured ingredients
Gynostemma Pentaphyllum Leaf Extract can help with body fat reduction.
Vitamin B1 is necessary for changing carbohydrates into energy and metabolism.
Vitamin B2 is necessary for energy production in the body.
Vitamin C is necessary for the formation and maintenance of connective tissues, for the absorption of iron, and for its antioxidant action to protect cells from harmful oxygen.
Pantothenic acid is necessary for the metabolism of fats, carbohydrates, proteins, and energy production.
Niacin is necessary for energy production in the body.
Vitamin D is necessary for the absorption and utilization of calcium and phosphorus, for the formation and maintenance of bones, and for reducing the risk of developing osteoporosis.

How to use
Take 1 capsule per day with water.

.
Product Info

Why we love it
This is a product containing secret recipes for the V-line as well as pumpkin, which was selected as one of the top 10 super foods by Time magazine in the U.S.
The Deepte 3-Day Strong Up is the No. 1 product in Olive Young's real-time purchase ranking, making the product trustworthy.
Deepte 3-Day, which has been loved as No. 1 for 6 years, promises the highest quality and customer satisfaction as its top priority.
It features domestic pumpkin and red beans that is safe to eat, a light 10g per pack without water, the sweetness from the earth, and the reliable food with the HACCP certification mark.
(G)I-DLE's Miyeon also chose the pumpkin.
This is the product that Brave Girls have been carrying for a long time whenever they need maintenance, with Yuna saying that she chose Deepte 3-Day among numerous advertisement offers because she had to manage her weight because of her schedule, and Eunji saying that it was a product she always took before meals whenever she needed V-line care.
Deepte 3-Day, chosen by countless celebrities, features a V-contour and a 3-day program.
It is definitely recommended for those who enjoy spicy and salty food, those who see the moon in the mirror every morning, those whose whole body feels dull and heavy, and those who are looking for delicious pumpkin juice.
Deepte 3-Day is reliable, as a professional R&D team resides in the production plant for quality improvement and research and development.
You can rest assured that it is a product produced in a HACCP facility that is safe from heavy metals.
It's a size that fits in a small bag, so you can take it conveniently and easily anytime, anywhere.
HACCP, a sanitary management system to keep biological, chemical, and physical hazards from being mixed with or contaminated with food at each stage from the production of food raw materials to consumption by the final consumer, as well as international standard standards certification, allowing domestic products to meet international standards; it is a criterion that proves compliance, and if the product is maintained and managed, and the company is managed based on environment-friendly policies, you can eat with confidence by receiving the ISO certification that allows you to receive this certification.
You can trust and consume it as it underwent HACCP certification from the Ministry of Food and Drug Safety, as well as self-inspection for microbes and various raw material hazards to consistently maintain quality.ocesses.

Featured ingredients
Without adding water, it was thickly decocted with 100% domestic sweet pumpkin and old pumpkin, and the effect was enhanced by containing a whole pumpkin.
It contains high-quality pumpkin that has survived the hot sun and rough wind, 300Da ultra-low-molecular collagen, and patented lactic acid bacteria for healthier management.
You can rest assured that there are no added sugar, artificial colors, synthetic flavors, or synthetic excipients.
It enhances the nutrition and contains the earth's sweetness through a slimming combination of earth-derived ingredients such as sweet pumpkin, old pumpkin, pear, red bean, red grape, corn silk, carrot, 300Da ultra-low-molecular collagen, 19 types of lactic acid bacteria, patented lactobacillus, grapefruit, etc.
Deepte 3-Day is reliable by using healthy raw materials from clean regions through contract cultivation.
Pumpkins grown in domestic clean areas are washed with high pressure to remove soil and sand, so they can be consumed without worry.
Deepte 3-Day is trusted by the Ministry of Food and Drug Safety (Ministry of Food and Drug Safety), uses only raw materials that have been sufficiently researched through SCI-level thesis, and is produced in compliance with strict manufacturing processes.
Even if the production price went up, you can rest assured that no harmful ingredients are used.
As a simple 3-day plan product, it is easy to consume for a long period of time as it is made of plant extracts.

How to use
Take 1 pack once a day.
It is recommended that you adhere to the drinking method of the program as much as possible.
You can take it together with health supplements, but in the case of specialized/general medicines, be sure to consult with a specialist before consuming the product.
Drink before or after meals regardless.

Product Info

Why we love it
This product has no added sugar, preservatives, artificial colorings, artificial flavors, or artificial diluting agents.
This edible enzyme is a multiple award-winning product with proven functionality by the Korean Ministry of Food and Drug Safety.


[Directions and Cautions]
Daily Intake: 2 Sticks (10g)

[Psyllium Fiber] May help smooth bowel movements.
[Garcinia Cambogia Extract] Prevents carbohydrates from converting into fat, helping reduce body fat


Featured ingredients
Contains 4000 mg of psyllium husk edible fibre that increases 40 times in volume when mixed with water to stimulate bowel movements.
Contains Garcinia HCA that help reducing body weight.

How to use
1. Before eating something delicious, take out one packet.
2. Take twice a day with enough water and you're done!