---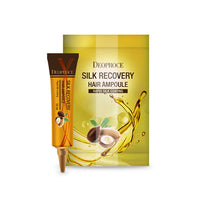 DEOPROCE SILK RECOVERY HAIR AMPOULE 0.35 oz x 10 ea (10 g x 10ea) 디오프러스 실크 리커버리 헤어 앰플 0.35 oz x 10 ea (10 g x 10ea)
Deoproce
RECOVREY HAIR AMPOULE to help improve flaky and damaged hair
Product name

 

: DEOPROCE SILK RECOVERY HAIR AMPOULE
Product details

 

: All skin types
Volume and weight

 

: 10g*10ea
Shelf-life

 

: 36 months before opening, 12 months after opening
How to Use

 

: Refer to product page in detail
Manufacturer and distributor

 

: GREEN COS Inc./(주)OVCOS Inc.
Product of origin

 

: Republic of Korea
All ingredients

 

: WATER, CYCLOPENTASILOXANE, CETEARYL ALCO- HOL, GLYCERIN, ISOPROPYL MYRISTATE, STEARTRIMONIUM CHLO- RIDE, 1,2-HEXANEDIOL, STEARAMIDOPROPYL DIMETHYLAMINE, DI- METHICONE, MILK PROTEIN EXTRACT, ARGANIA SPINOSA KERNEL OIL, SILK AMINO ACIDS(100 ppm), HYDROLYZED ELASTIN, HYDROLY- ZED KERATIN, HYDROLYZED WHEAT PROTEIN, PROPYLENE GLYCOL, BEESWAX, GUAR HYDROXYPROPYLTRIMONIUM CHLORIDE, POLY- QUATERNIUM-10, CETRIMONIUM CHLORIDE, CITRIC ACID, BUTYLENE GLYCOL, ETHYLHEXYLGLYCERIN, PHENOXYETHANOL, DISODIUM EDTA, FRAGRANCE
Functional cosmetics required to obtain review from the Food and Drug Administration in accordance with the Cosmetic Act. : Not applicable
Use Precautions : 1. If you experience any of the following abnormalities during use of this product, discontinue use and consult a specialist. A. If you experience red spots, swelling, itching, or irritation. B. In the event of the above symptoms on the applied area due to a direct sunlight: 2. Do not use the product on areas with cuts, eczema, or dermatitis 3. If the product gets into your eyes, wash out immediately. 4. Wash thoroughly with water after using the product as failing to rinse thoroughly may cause hair loss or discoloration. 5. Storing and Handling Precaution A. Keep out of reach of children B. Avoid placing the product in high or low temperature and direct sunlight
Warranty period

 

: This product can be exchanged or compensated in accordance with the consumer dispute resolution standard of the Fair Trade Commission notification.