---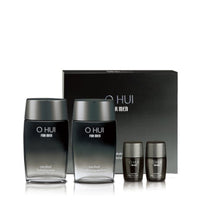 Sale
O HUI FOR MEN Neofeel Hydrating set (오휘 포맨 네오필 2종 세트)
O HUI (오휘)
Sale price $54.99 Regular price $69.99
O HUI For Men Neofeel Special Set total 4pcs (Neofeel Hydrating Toner + Neofeel Moisturizing Emulsion + 2 Travel Kit)

Exposed to an ever-worsening environment, including a delpeted ozone layer, aggravated pollution n an imbalanced lifestyle, the healthy skin of today's man is placed under stress n subtly but gradually begins to age, developing increased sheen n enlarged pores. O HUI for men neofeel uses new nano-technology to deliver its active ingredients, Asebiol, Rhodiola rosea n niacin amide, deep within the skin to control excessive sebum n provide care for enlarged pores for effective skincare.
Neofeel Hydrating Toner 4.60 Oz/135Ml + Neofeel Moisturizing Emulsion 4.60 Oz/135Ml
2 Travel Kit : Neofeel Hydrating Toner 1.01 Oz/30ml + Neofeel Moisturizing Emulsion 1.01 Oz/30ml
Neofeel hydrating toner is a skin softener that refreshes the skin with its bergamot n citrus green fragrance
It adjusts the skin's pH balance after washing the face, controls excessive sebum n hydrates pores enlarged by stress for a fresh sensation
Neofeel moisturizing emulsion is a nourishing lotion that uses nano-technology. Gently absorbed with a fresh feeling, it controls sebum n provides care to pores enlarged by the external environment.