---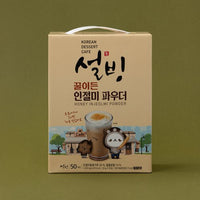 설빙 꿀이든 인절미 파우더 20g X 50포 Sulbing Honey Injeolmi Powder 20g X 50 Sticks
SUNSHINEMALL KOREA BEAUTY
 설빙 꿀이든 인절미 파우더 20g X 50포
Sulbing Honey Injeolmi Powder 20g X 50 Sticks
Making Sulbing Injeolmi Bingsu
1. Finely grind the frozen milk in an ice machine and put it in a bowl.
2. Sprinkle condensed milk according to your preference, then sprinkle 2 sticks (40g) of Injeolmi Powder Sticks evenly over it.
3. Add red beans and Injeolmi to make delicious Injeolmi Patbingsu.
Making Sulbing Injeolmi Toast
Ingredients: Butter, 2 slices of bread, 4-5 injeolmi, condensed milk, almond slices
1. Put butter in a pan and bake bread.
2. Cut injeolmi on a slice of bread with scissors and place it on top, then cover the slice of bread.
3. Bake for 7 minutes at 180 degrees in the air fryer.
(If you turn it in the microwave, turn it back for about 1 minute.)
4. After taking it out of the microwave, cut it into an X shape to make it easier to eat.
5. Sprinkle injeolmi powder evenly, then top with almonds and sprinkle with condensed milk.
Making Sulbing Injeolmi Latte
HOT: Dissolve Injeolmi Powder No. 1 (20g) in about 80ml of water or milk and stir well before eating.
COLD: Dissolve 1~2 packets (20~40g) of Injeolmi powder in about 80~160ml of water or milk, stir well, and serve with ice.

설빙 인절미 빙수 만들기
1. 얼린 우유를 빙수기에 곱게 갈아 그릇에 넣습니다.
2. 기호에 따라 연유를 뿌려준 후, 그 위에 인절미파우더 스틱 2포(40g)를 골고루 뿌려줍니다.
3. 팥과 인절미를 올려주면 맛있는 인절미 팥빙수 완성
설빙 인절미 토스트 만들기
재료: 버터, 식빵2장, 인절미 4~5개, 연유, 아몬드 슬라이스
1. 팬에 버터를 두르고, 식빵을 구워주세요.
2. 식빵에 인절미를 가위로 잘라 올려주고, 식빵을 덮어주세요.
3. 에어프라이어 180도에 7분 구워주세요.
(전자레인지에 돌릴 경우 약 1분 돌려주세요.)
4. 전자렌지에서 꺼낸 후, 먹기 좋게 X자 모양으로 잘라주세요.
5. 인절미 가루를 골고루 뿌려준 뒤, 아몬드를 올린 후 연유를 뿌려주세요.
설빙 인절미 라떼 만들기
HOT: 인절미 파우더 1호(20g)를 약 80ml의 물 또는 우유에 타서 잘 저은 후 드십시오.
COLD: 인절미 파우더 1~2포(20~40g)를 물 또는 우유 약 80~160ml에 타서 잘 저은 후 얼음을 넣어서 드십시오.