---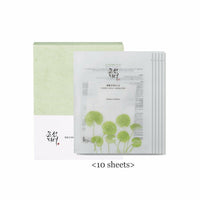 Beauty of Joseon Centella Asiatica Calming Mask
조선미녀 병풀 진정 마스크
Enriched with 15% Centella Asiatica, this mask pack is designed to comfort and soothe your skin. The combination of green tea extract, mugwort extract, and 3 types of hyaluronic acid deliver deep hydration, refreshing your skin from within.
Thin Tencel sheet
The thin Tencel sheet closely adheres to the skin regardless of the face shape.
In addition, it is highly breathable and does not clog pores even while the mask pack is covering the face.
Deep hydration
Containing 3 types of hyaluronic acid, of low-medium-high molecular weight, it hydrates the skin from deep within.
Moisture barrier
It has an essence type texture to provide a powerful moisture layer to the skin.
Key ingredients
Centella asiatica extract 15%
It is also called 'Tiger grass' because it is recorded that tigers rolled in fields of centella grass when they were injured in ancient times. It soothes and relaxes the skin.
Hyaluronic acid
Containing Hyaluronic Acid, Hydrolyzed Hyaluronic Acid, and Sodium Hyaluronate, it hydrates the skin from deep within. In addition, it contains natural herbal ingredients such as mugwort extract, goji berry extract, ginseng extract, and green tea extract.
Q : What skin types can use it?
A : Suitable for all skin types. Especially ideal for dry and sensitive skin.
Q : Do I need to use a serum or cream after using the mask?
A : It is a firm textured essence type formula rather than a watery light one.
For oily skin, you can put on a light serum, and for dry skin, you can put serum and cream.
How to use
1. Use toner with cotton pads for refine your skin texture
2. Put the mask on your face and leave it for 15-20 minutes
3. Take off the mask and pat gently with your fingertips to be absorbed
Water, Centella Asiatica Extract, Glycereth-26, Butylene Glycol, Niacinamide, 1,2-Hexanediol, Hydroxyacetophenone, Arginine, Acrylates/C10-30 Alkyl Acrylate Crosspolymer, Hydroxyethylcellulose, Carrageenan, Polyglyceryl-4 Caprate, Polyglyceryl-6 Caprylate, Adenosine, Ethylhexylglycerin, Disodium EDTA, Helianthus Annuus (Sunflower) Seed Oil, Panthenol, Artemisia Princeps Leaf Extract, Lycium Chinense Fruit Extract, Propandiol, Portulaca Oleracea Extract, Panax Ginseng Root Extract, Camellia Sinensis Leaf Extract, Anthemis Nobilis Flower Oil, Sodium Hyaluronate, Hydrolyzed Hyaluronic Acid, Hyaluronic Acid