---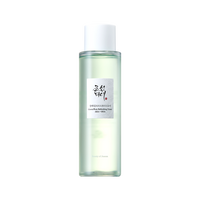 Beauty of Joseon Green plum refreshing toner : AHA + BHA 150ml
조선미녀 청매실 AHA BHA 토너 150ml
The natural rhythm of our skin involves a 28-day cycle of cell regeneration and exfoliation. If this process is hindered by dead skin cells clogging our pores, it can lead to inflammation and dull skin tone.
With this in mind, we've formulated a gentle, lightweight toner to help sweep away residual dead skin cells and sebum that may linger post-cleansing.
At the heart of our toner is the power of plum, a long-standing herbal remedy, now harnessed for its cosmetic benefits in skin texture care and dead cell removal. Working in harmony with mung bean extract—a skin-soothing powerhouse—and the chemical exfoliants AHA and BHA, this toner is all set to revitalize your skin's natural glow.
Daily Exfoliating Toner
Green Plum Toner is ideal for use in the morning and evening during the first step of skin care to wipe away residual waste and smooth out the skin texture. After sufficiently moistening a cotton pad with toner, gently wipe the skin from the inside to the outside. It not only cleans up waste but also enhances the skin condition to facilitate better absorption of follow-up skin care products.
Key ingredients
Green plum water 25% + Mung bean extract 2%
Donguibogam, an herbal medicine book from the Joseon Dynasty, states that plums lower the temperature, ease the mind, and help stop thirst and diarrhea. In Korean history, plum and mung bean were used as medicines to treat stomachaches or rid the body of toxins.
Plum water and mung bean extract as skin care ingredients help to smooth out skin texture and provide moisture.
AHA + BHA
With a mixture of 2% glycolic acid and 0.5% salicylic acid, you can use it every morning and evening to remove dead skin cells without irritating your skin. It is made with a mild formula that combines a low concentration of chemical exfoliants and plant extracts rather than attempting to create powerful effects via overly high concentrations of AHA and BHA since cosmetics are not categorized as drugs. This is because we believe that it is important to constantly monitor and care for the condition of the skin without causing irritation.