---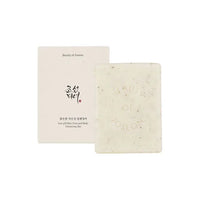 Beauty of Joseon Low PH Rice cleansing bar 100g
조선미녀 맑은쌀 약산성 클렌징바 100g
It is made by blending grains and mild surfactants, so it can be used comfortably by all age groups and with all skin types. Packaging is minimized, so there is no plastic packaging material, reducing the environmental issues.
Hypoallergenic, slightly acidic formula
Healthy skin is slightly acidic because of the acidic components secreted by the sweat and sebaceous glands. When these acidic components decrease, the skin's defense weakens, making it easy for the skin to become sensitive. Rice Cleansing Bar is a slightly acidic cleanser that helps to cleanse the face without damaging the natural skin barrier.
Hypoallergenic surfactant
This product uses a very mild surfactant so-called 'Baby foam', which is mainly used in cleaning products for infants and toddlers.
Moisturization
As it contains olive oil and rice bran extract, which are good for moisturization, it doesn't tighten your skin even after cleansing.
For everyone
It can be used on the face and the body by the whole family, regardless of age.
Key ingredients
Rice bran extract
Rice bran is the finest inner bran of milled rice. In the Joseon Dynasty, rice bran water was used like the toner of today. It was called 'Beauty Water', used for beautiful skin. Rice bran, rich in amino acids, minerals, and vitamin E, helps to keep the skin moist and healthy.
Black sesame
The small black grains you see in the soap are black sesame seeds.
According to Donguibogam, black sesame was prescribed to those who did not have the energy to speak and has long been used as an important herbal ingredient.
Q : How do you store the soap?
A : Due to the nature of the product, its shape is easily damaged if stored in a humid place.
Please store it on a mesh bag or soap dish that drains well.
Q : What skin types can use it?
A : It is suitable for all skin types, even children.
It can be used on the face and the whole body.
Q : What are the black grains visible on the surface of the soap?
A : They are black sesame seeds, so you can use it safely.
Sodium Cocoyl Isethionate, Zea Mays (Corn) Starch, Water, Glycerin, Decyl Glucoside, Olea Europaea (Olive) Fruit Oil, Cocos Nucifera (Coconut) Oil, Xanthan Gum, Citric Acid, Sesamum Indicum (Sesame) Seed Powder, Oryza Sativa (Rice) Bran Extract, Butylene Glycol, 1,2-Hexanediol, Caprylyl Glycol