---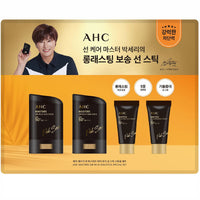 AHC MASTERS Air Rich Sun Stick Special Set SPF50+ PA++++ Waterproof AHC 마스터즈 에어 리치 선스틱 스페셜 세트 SPF50+ PA++++ Waterproof
A.H.C
AHC MASTERS Air Rich Sun Stick Special Set SPF50+ PA++++ Waterproof
AHC 마스터즈 에어 리치 선스틱 스페셜 세트 SPF50+ PA++++ (지속내수성)
EXP. 05/10/2026
[Set Include]
- AHC MASTERS AIR RICH SUN STICK SPF50+ PA++++ WATERPROOF * 2EA
- AHC MASTERS AQUA RICH SUN CREAM SPF50+ PA++++ WATERPROOF * 2EA
Product Info
Why we love it

This lightweight sun stick gives a smooth finish and stays moisturized for 24 hours, providing powerful protection even during long outdoor activities.
This product is SPF50+ PA++++.
By forming a thin veil that does not easily wash away by water and sweat, it gives prolonged UV protection even after long outdoor activities.
It applied moisturization technology that replenishes moisture in the skin and forms a moisturizing veil, helping to hydrate the skin up to the 10th layer and let it stay moisturized for 24 hours.
This clinically tested product helps reduce skin irritation due to UV and infrared rays, soothes the skin, and inhibits fine dust from attaching to the skin.
This clinically tested product helps reduce moisture loss from the skin, stay moisturized for 24 hours, quickly moisturize 2.5mm under the skin, moisturize up to the 10th layer of skin, and relieve skin tightness.
This clinically tested product helps protect against water, sweat, sand, activity, and mask stains.
This clinically tested product temporarily soothes the skin from the friction of wearing masks and helps it wash away more easily with the first cleansing.
It has been tested for primary skin irritation, suitability for sensitive skin types, and eye irritation.
It helps absorb sebum immediately.
It is lightweight, leaving the skin refreshing without feeling stuffy, and provides strong protection by setting tightly onto the skin.
It replenishes moisture and creates a moisturizing veil to keep the skin hydrated for a long time.
The functionality and efficacy are clinically proven to provide strong protection and moisturization, and it is gentle on the skin prone to irritation.

Featured ingredients
It contains calamine powder to help control sebum and its lightweight airy texture provides a smooth finish without stickiness or shine.
It contains Centella Asiatica extract and TECA to help replenish moisture and soothe the skin.
It contains Tocopherol to help maintain moist and healthy skin.

How to use
1. In the last step of skincare, turn the dial at the bottom of the container to raise the contents by about 5mm, and gently apply to the face from the center and outwards.
2. Carry it around and reapply it frequently to all areas that need sun protection.