---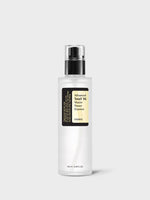 Light- weight essence which absorbs into skin fast to give skin natural glow from the inside. This essence is created from nutritious, low-stimulation filtered snail mucin to keep your skin moisturized and illuminated all day.
BENEFITS
Fades dark spots
Improves skin texture
Anti-aging
Intense hydration
TARGETS
Dull & rough skin
Soothing damaged skin
Dark spots & scars
KEY INGREDIENTS
96.3% snail secretion filtrate :
deliver rich nourishment through quick absorption
1,000 ppm sodium hyaluronate :
plumping and soothing care, infuses hydration
Formulated Without
Parabens
Phthalates
Alcohol
How to use
After cleansing and toning, apply a small amount on your hands and gently pat the product onto the face, using fingertips to aid absorption. Follow with moisturizer.
Full Ingredients
Snail Secretion Filtrate, Betaine, Butylene Glycol, 1,2-Hexanediol, Sodium Polyacrylate, Phenoxyethanol, Sodium Hyaluronate, Allantoin, Ethyl Hexanediol, Carbomer, Panthenol, Arginine
빠른 흡수로 피부 속광을 채워주는 어드벤스드 스네일 96 무신 파워 에센스!
96% 달팽이점액여과물이 함유되어 피부 진정과 케어에 탁월합니다.
하루 종일 지속되는 수분감과 속광을 느껴보세요.
주요 성분
96.3% 달팽이점액여과물 : 빠른 흡수를 통한 풍부한 영양 공급
1,000ppm 히알루론산나트륨: 수분 공급 및 진정케어