---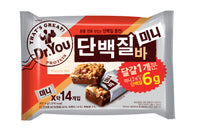 Dr. You Protein Bar Mini 337.5g (27g x 24ea)
닥터유 단백질바 미니 337.5g (27g x 약 24개입)
Simple and delicious protein filling before and after exercise.
12g of protein, equivalent to 2 eggs, when eating 4 each.
Self-regulating intake in mini size.
Large chunks of chewy nuts are added, lentils and crispy protein nuggets are added to enhance the flavor and firmness of the protein bar without the unique artificial taste or dryness.
Protein powder can be processed into a small puff shape for delicious and easy protein supplementation.