---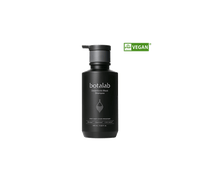 Incellderm Botalab Deserticola Black Shampoo 400ml (13.52 fl.oz.) 보타랩 데저티콜라 블랙샴푸 400ml(13.52 fl.oz.)
INCELLDERM
Incellderm Botalab Deserticola Black Shampoo 400ml (13.52 fl.oz.)
It is a black shampoo that temporarily darkens gray hair and bright hair and makes it healthy and shiny.
#Vegan_Black #White_Hair_Cover #Hair_Loss_Relief
Size: 500 ml / 16.9 fl oz
Features: Anti-Hair Loss Program
Skin Type: All skin type available
It's not a dye. This is a daily shampoo.
Gray Hair Cover: Temporarily darkens gray hair and bright hair mildly and reliably with balanced nutrition
Anti-Hair Loss: Relief of hair loss symptoms with plant energy Healthy care for hair loss symptoms with non-notified ingredients
Nourishing: Microalgae deserticola™ provides rich nutrition and vitality to tired scalp and hair
Experience powerful hair changes with plant energy found in nature.
#gray cover #hair loss symptom relief #hair nutrition
Complete vegan gray hair care that changes every day.
*Botalab does not use animal-derived ingredients to protect the value of respect for life, and provides scientifically verified vegan beauty inspired by botany.
No Scalp concern component
No hair dye ingredients added
Skin scalp hypoallergenic test completed
Botalab Deserticola Black Shampoo and Black Treatment products do not contain 1,2,4-THB, scalp concerns, and are tested for primary scalp/skin irritation, so you can use them daily with confidence.
Botalab will always be with you with safe products made with heart.
*19 additive-free ingredients
1,2,4-trihydroxybenzene, sulfate surfactants (SLS, SLES, ALS, ALES), 7 parabens, silicone, amidazolidinyl urea, m-phenylenediamine, benzophenone-3, benzophenone -4, benzophenone-8, triethanolamine
*Featured Ingredients
Blackgen™
Seaweed and peptides contained in microcapsules with improved delivery power give hair healthy vitality.
Deserticola™
The energy of strong microalgae helps to maintain a healthy scalp environment and shiny hair.
Korea's first 3 plant-derived complexes
Relief of hair loss symptoms approved by the Ministry of Food and Drug Safety Ingredients not notified
C.E.C-Active™
Carrot Leaf Extract / Echinacea Purpurea Extract / Caffeine
*Limited to raw material characteristics
White Flower Bouquet
100% Natural Fragrance
Citrus that seems to have the scent of fresh grass leaves in harmony with the comfortable and delicate scent of white prologue, giving you the scent of a fragrant flower garden, like flowers blooming in your hair.
Jasmin, Rose, Tuberose, Magnolia
Vegan black that conveys the elegant sensibility of a lovely white floral bouquet
How to Use
After wetting the hair and scalp sufficiently with water, take an appropriate amount of black shampoo, massage gently, and create bubbles.
Leave on for about 3 minutes, then rinse thoroughly with lukewarm water.
*Wash your hands while waiting.
After using black shampoo, take an appropriate amount of black treatment on wet hair and apply evenly. Use a dye comb to reduce hand staining and make application quick and easy.
Leave on for about 3 minutes, then rinse thoroughly with lukewarm water.
*Wash your hands while waiting.
Dry completely.
*TIP: When drying with a towel, if you rub your hair and wipe it, the pigment may be lost, so wipe it slowly and lightly!
보타랩 데저티콜라 블랙샴푸 400ml(13.52 fl.oz.)
새치 및 밝은 모발을 일시적으로 어둡게 해 주며 건강한 헤어로 가꾸어 주는 블랙 샴푸
#비건블랙 #새치커버 #탈모완화 #모발윤기 #모발영양