---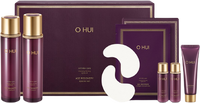 Sale

O HUI AGE RECOVERY 2PCS SPECIAL SET
EXP. 04/26/2026
Set Included
-
Age Recovery Skin Softener 150ml EXP. 07/24/2026
-Age Recovery Emulsion 140ml EXP. 08/03/2026
-Age Recovery Skin Softener 20ml EXP. 10/12/2026
-Age Recovery Emulsion 20ml EXP. 10/24/2026
-Age Recovery Soft Amino Foam 45ml EXP. 10/12/2026
-Age Recovery Collagen Eye Patch 4g X 2EA EXP. 04/26/2026
Age Recovery Skin Softener
This milky texture, highly concentrated softener contains vital nutrition for powerful anti-ageing care.
Containing baby collagen to defend ageing while preparing skin for better absorption of other products.
It helps reduce skin wrinkles and fine lines.
Age Recovery Emulsion
Super anti-ageing line instantly diminishes visible signs of ageing.
It helps build up Type 3 collagen and fatty acid – the "Baby collagen," one of the 27 collagens; which is responsible to reduce wrinkles and make the skin return to childlike softness and elasticity, nourishing skin from within.