---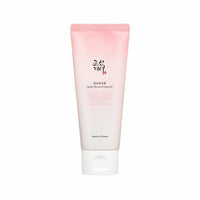 [Renewal]
Beauty of Joseon Apricot Blossom Peeling Gel 100ml
조선미녀 꽃담필링젤 100ml
This is a gommage type exfoliator, enriched with 19% Prunus Mume Flower Water and 8% plant-based Cellulose. It aims to alleviate skin concerns linked to uneven texture and excessive sebum production.
Gommage texture
This product minimizes skin discomfort with its gommage texture. Massaging the plant-derived cellulose onto your skin delicately sloughs away dead skin cells and other impurities. It's versatile enough for both face and body use.
Moisturization
Enriched with 19% prunus mume water and 8% plant-derived cellulose, this formula helps make the skin texture soft and leaves your skin feeling intensely hydrated.
Key ingredients
Prunus mume flower water 19%
Prunus mume flower, the plum blossom, contains polyphenols and flavonoids to help make the skin clear and moist.
Plant-derived cellulose 8%
The cellulose extracted from cotton gently exfoliates dead skin cells and impurities in the process of clumping in a circular shape on the skin.
Q: What is the difference between this and bubble toner?
A: Bubble toner contains 3% AHA to soften the dead skin cells on the skin's surface.
Peeling gel physically exfoliates dead skin cells when rubbed onto the skin.
You can use it according to your skin type and skin condition.
Q: Isn't it irritating when rubbed on the skin?
A: Physical exfoliant does not necessarily cause more irritation than chemical exfoliant.
If your skin is very sensitive to AHA, BHA, or PHA, we recommend using the gommage type, the gentlest among physical exfoliants. Ordinary scrubs are rough and hard, which can result in scratching the skin, but the gommage type is rather soft, so it is much gentler than other scrubs.
Q: Can I use it every day?
For any type of exfoliant product, you should adjust the frequency of use according to your skin type.
In general, it is recommended for use 1-2 times a week.
How to use
Apply a proper amount on your dry face except areas near eyes. Massage gently for about 20 seconds.
Water, Prunus Mume Flower Water, Cellulose, Methypropandiol, 1,2-Hexandiol, Carbomer, Arginine, Ethylhexylglycerin, Allantoin, Sorbitol, Pyrus Malus (Apple) Fruit Extract, Camellia Sinensis Leaf Extract, Houttuynia Cordata Extract, Nelumbo Nucifera Flower Extract, Oryza Sativa (Rice) Extract, Prunus Mume Fruit Extract, Vaccinium Angustifolium (Blueberry) Fruit Extract, Butylene Glycol, Disodium EDTA