---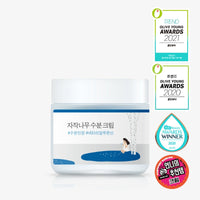 ROUND LAB Birch Juice Moisturizing Cream 80mL
라운드랩 자작나무 수분크림 80mL
A gentle, well-rounded moisturizer for total moisture care and skin barrier strengthening.
Hydration lock
Nourishing
Reduce inflammation
Clear & Brighten Skin
lightweight
Easy layering

Feels like : Light weight, fresh and fluffy
Smells like : Unscented
Good For : Sensitive + All Skin Types
About Birch Trees
Birch Trees are refreshingly tall, snow white, and has been nicknamed "the queen of the forest" due to their romantic images of unspoiled mountain streams and wintry nights. Their white skin, which can be preserved for over a thousand years, sheds into more than ten thinner layers that can be repurposed as "paper" in the old ages. Its roots, sap, and even the mushrooms living off these trees were commonly used for medical purposes.
In the spring, before the leaves have sprouted, Birch tree sap is harvested with a small hole, bleeding its "white sap" that has a slightly sweet flavor and is rich with NMF (Natural Moisturizing Factor, a cocktail of ingredients that the skin naturally creates to keep the stratum corneum hydrated. These include Amino Acids, Lactic Acid, Pyrrolidone Carboxylic Acid (PCA), and Hyaluronic Acid).
Benefits on our skin
Moisturize our skin
Prevent sun pigmentation
Encourage growth of new collagen
Strengthen hair
Reduce inflammation
Clear and brighten skin
Antioxidant properties
Prevent hair loss
Purify and hydrate skin
Energize skin
Eliminate toxins
As the last step of a skincare routine, gently apply a sufficient amount on skin, spread it out as if creating a barrier.