---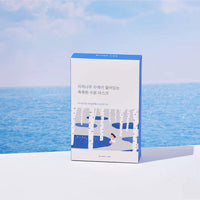 Round Lab Birch Juice Moisturizing Mask
라운드랩 자작나무 수분 마스크
Ampoule in a mask - intensive moisture delivered through Birch Sap and Hyaluronic Acid. A great supply of hydration and moisture retention.
About Birch Trees
Birch Trees are refreshingly tall, snow white, and has been nicknamed "the queen of the forest" due to their romantic images of unspoiled mountain streams and wintry nights. Their white skin, which can be preserved for over a thousand years, sheds into more than ten thinner layers that can be repurposed as "paper" in the old ages. Its roots, sap, and even the mushrooms living off these trees were commonly used for medical purposes.
In the spring, before the leaves have sprouted, Birch tree sap is harvested with a small hole, bleeding its "white sap" that has a slightly sweet flavor and is rich with NMF (Natural Moisturizing Factor, a cocktail of ingredients that the skin naturally creates to keep the stratum corneum hydrated. These include Amino Acids, Lactic Acid, Pyrrolidone Carboxylic Acid (PCA), and Hyaluronic Acid).
How to use
After cleansing and toning, apply mask on evenly, leave on for 10 minutes. Remove mask and tap lightly for remaining residual ampoule to get fully absorbed into skin.