---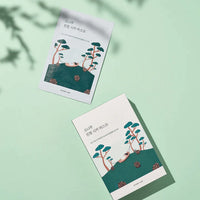 Round Lab Pine Calming Cica Mask Sheet
라운드랩 소나무 진정 시카 마스크
Innovate mask with a double wave sheet packed with calming essence - delivering unrivaled moisture and soothing cool. Gently but effectively removes dead skin cells and clears away clogged pores.

About Pine Trees
Pine trees are a well-known source of antioxidants already available in the market as food supplements or phytochemical remedies, such as Pycnogenol, used also in the treatment of chronic inflammation and circulatory disfuction.
Besides the traditional use of pine seeds for human consumption either as edible raw nuts or in cooked dishes, the use of pines cones, needles, bark and oil as food or skincare ingredients has already been established and accepted around the world. Their benefits include anti-aging properties, protective activity against alcohol-induced liver disease or against inflammation, hippocampal memory-enhancing activity, and activity for the early management of dyslipidemia, that can be potentially useful in food, functional food, and food supplement industries.
How to use
After cleansing and toning, leave mask on for 10 - 20 minutes. After removal, tap lightly across face for residual contents to be fully absorbed.