---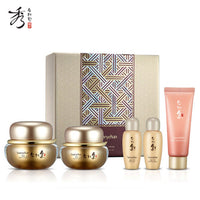 SOORYEHAN BOYUN CREAM SET 수려한 보윤 크림 기획세트
SOORYEHAN
SOORYEHAN BOYUN CREAM SET
수려한 보윤 크림 기획세트
SET INCLUDES:
Sooryehan Boyun Cream 50ml EXP. 03/08/2026
Sooryehan Boyun Cream 25ml EXP. 03/08/2026
Sooryehan Boyun Skin 20ml EXP. 03/05/2026
Sooryehan Boyun Emulsion 20ml EXP. 03/07/2026
Sooryehan Bichaek True-Rejuvenating Cleansing Foam 40ml EXP. 03/18/2026
- Moisturizing and Nourishing - Discover your most beautiful skin with everything you need for youthful hydrated skin that glows with vitality, this skincare set contains a Super Essential Toner and Emulsion (0.67 FL oz each), Cleansing Foam (1.35 fl oz each), and a Boyun Essential Cream (1.69 fl oz, 0.84 fl oz).
- Easy Absorption - Light and non-greasy with the calm and nourishing emulsion is easily absorbed by the skin. Revives and hydrates the skin locking in moisture and leaving it smooth and soft to touch.
- Reduces Appearance of Age Spots - Refines the look of discolored skin, age spots, freckles, hyperpigmentation. Moisturizing cream that absorbs quickly won't leave a gummy residue or dry out your skin.
- "SOORYEHAN - Defying age and beauty through traditional herbal medicinal methods, by using Korean Ginseng from the natures of Korea as the base ingredient, perfecting and extracting its skincare potential through Korean Herbal Medicine Cosmetics (Hanbang) Bio Technology, Sooryehan is the full embodiment of eternal beauty through creating skincare products to help your skin achieve its glowing and ageless potential"