---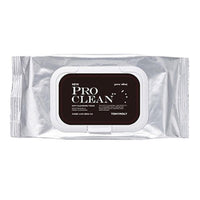 TONYMOLY NEW PRO CLEAN SOFT CLEANSING TISSUE 280g(50EA)
토니모리 프로클린 소프트 클렌징 티슈 280g(50매입)
Our Pro Clean Soft collection features a series of cleansers that are formulated with hydrating Cactus Extract for easy everyday cleansing. These travel-friendly wipes are handy for cleansing your face while on-the-go, quick fix up while out, or even as part of your daily home cleansing routine! Gently swipe away dirt, makeup, and oil with these disposable cleansing cloths that will leave your skin feeling perfectly clean, soft, and refreshed in an instant!! Ideal for all skin types and perfect for on-the-go cleaning, the convenient pack of 50 wipes fits easily into your gym bag or suitcase.
WHAT MAKES IT GOOD?
Formulated with baking powder, this water based cleansing tissue easily and effectively removes makeup while leaving skin feeling fresh and non-sticky. The botanical components such as Aloe and Rose Water leaves skin feeling soft, moisturized, and refreshed.
KEY INGREDIENTS
Aloe Vera Extract - Soothes and provides intense moisture.
Rose Water, Calendula Extract, Cherry Blossom Extract - Soothes and calms skin.
Hibiscus Extract - Natural emollient that softens skin and reducing wrinkles.
Avocado Oil - Moisturizes and protects skin.
HOW TO USE?
Gently wipe cloth on skin to remove dirt, oil, and makeup.
When cleansing around the eyes, close your eyes and gently wipe.
After use, close the cover to prevent the tissues from drying out.